The PEER 150 Berkeley General Counsel Institute
The PEER 150 General Counsel Institute
The GC Institute is an executive level program designed for high potential legal executives looking to develop and enhance their leadership skills. We are unique in that we focus specifically on legal leadership challenges, rather than technology, sales or general leadership as do many other programs. Our sessions are taught and facilitated by Fortune 1000 General Counsel and UC Berkeley faculty that have foundational knowledge as well as practical, real world experience.
The GC Institute provides up-and-coming legal executives with an insight to the skills, techniques and disciplines of the General Counsel role.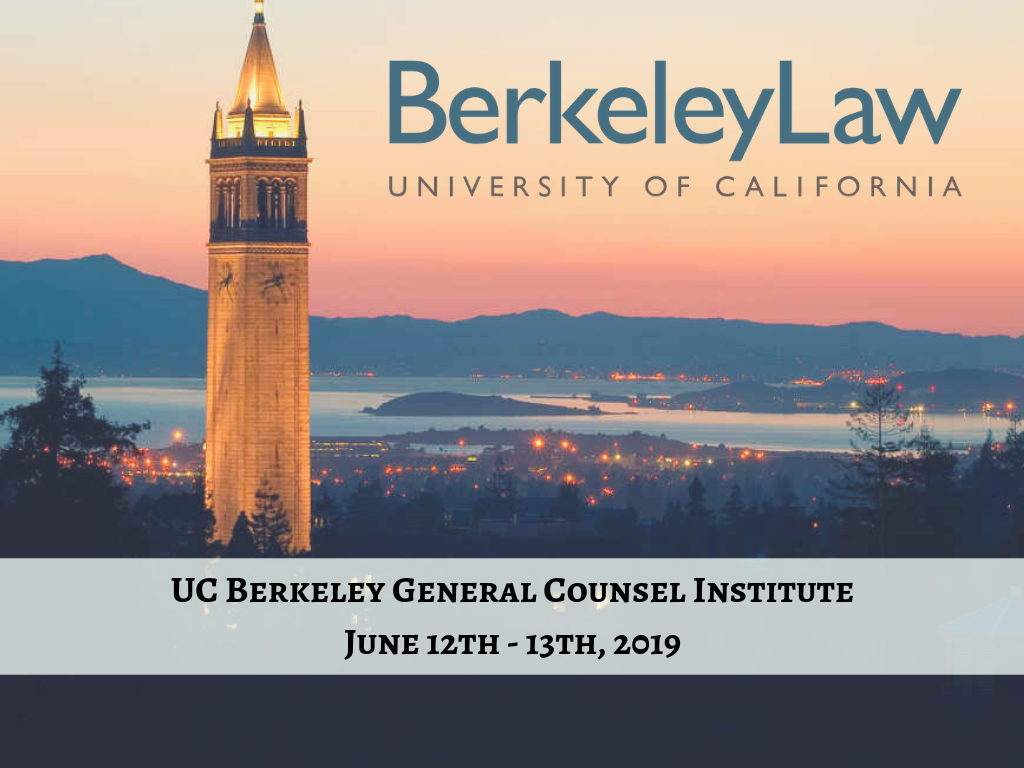 Wednesday, June 12th
8:30 am

– Registration & Breakfast
8:45 am

– Welcome to the General Counsel Institute
9:00 am

– When the Government Comes Knocking
10:00 am

– Break
10:15 am

– Smart Risk Taking

11:15 am

– Break
11:30 am

– Litigation Strategy

12:30 pm

– Lunch
1:30 pm

– #MeToo is Transforming Corporate Governance

2:30 pm

– Break
2:45 pm

– The Digital GC
3:45 pm

– Break
4:00 pm

– A General Counsel's Journey: Keys to Success as a GC Leader

5:30 pm

– Networking Reception at Western Pacific
Thursday, June 13th
8:30 am

– Breakfast
9:00 am

– Negotiation Skills for Lawyers

10:00 am

– Break
10:15 am

– High Performance Teams

11:15 am

– Break
11:30 am

– The GC's Role in Corporate Ethics

12:30 pm

– Lunch
1:30 pm

– Succeeding as an In-House Counsel Executive

2:30 pm

– Break
2:45 pm

– Managing Legal within a Regulated Business

3:45 pm

– Break
4:00 pm

– Managing Unconscious Bias

5:00 pm

– Program Wrap Up & Certificate Ceremony
Berkeley Law | Room 100
225 Bancroft Way
Berkeley, CA
The Berkeley Center for Law and Business is Berkeley Law's hub for rigorous, relevant, and empirically based research, education, and programming on the interrelationships of the law, business, and the economy. Our areas of focus include venture capital and entrepreneurship, corporate social responsibility, capital markets, and mergers and acquisitions. Our executive education programs, which now include venture capital, blockchain, and finance academies, have honed the skills of practicing attorneys, executives, and investors from over 20 different countries.
Berkeley Law is the world's leading institution for the study of corporate law, finance, capital markets, and innovation. To achieve this objective Berkeley leverages its leading faculty in these areas as well as its unique geographical location with respect to Silicon Valley. In pursuit of these objectives Berkeley adheres to its social mission as the top public law school in the country.
Our tuition structure encourages organizations to send multiple attendees.  We have found that the more attendees within an organization who hear new ideas, strategies and concepts taught at the Institute, the more likely they are implemented when executives return to the work environment.  This is a core principal of the GC Institute: practical ideas that can be implemented.
Standard Tuition Cost

1st Attendee

$4,000

2nd Attendee

$3,000

3rd Attendee

$2,000

4th Attendee

$1,000