[av_section color='main_color' custom_bg='#61ba46′ src=" attachment=" attachment_size=" attach='scroll' position='top left' repeat='no-repeat' video=" video_ratio='16:9′ min_height=" min_height_px='500px' padding='no-padding' shadow='no-shadow' bottom_border='no-border-styling' id="][/av_section] [av_heading tag='h2′ padding='10' heading='The PEER 150 General Counsel Institute' color='custom-color-heading' style=" custom_font='#62ba46′ size=" subheading_active=" subheading_size='10' custom_class="][/av_heading] [av_one_third first] [av_textblock size=" font_color=" color="]
UC Berkeley School of Law
September 27-28, 2018
[/av_textblock] [/av_one_third] [av_one_third] [av_textblock size=" font_color=" color="][/av_textblock] [/av_one_third] [av_one_third] [av_textblock size=" font_color=" color="] [/av_textblock] [av_button label='Register' link='page,3623′ link_target=" size='large' position='center' icon_select='no' icon='ue800′ font='entypo-fontello' color='theme-color' custom_bg='#444444′ custom_font='#ffffff'] [/av_one_third] [av_hr class='invisible' height='-20′ shadow='no-shadow' position='center' custom_border='av-border-thin' custom_width='50px' custom_border_color=" custom_margin_top='30px' custom_margin_bottom='30px' icon_select='yes' custom_icon_color=" icon='ue808′ font='entypo-fontello'] [av_tab_container position='top_tab' boxed='border_tabs' initial='1′] [av_tab title='
Welcome
' icon_select='no' icon='ue800′ font='entypo-fontello']
The PEER 150 General Counsel Institute
The GC Institute is an executive level program designed for high potential legal executives looking to develop and enhance their leadership skills. We are unique in that we focus specifically on legal leadership challenges, rather than technology, sales or general leadership as do many other programs. Our sessions are taught and facilitated by Fortune 1000 General Counsel and UC Berkeley faculty that have foundational knowledge as well as practical, real world experience.
The GC Institute provides up-and-coming legal executives with an insight to the skills, techniques and disciplines of the General Counsel role.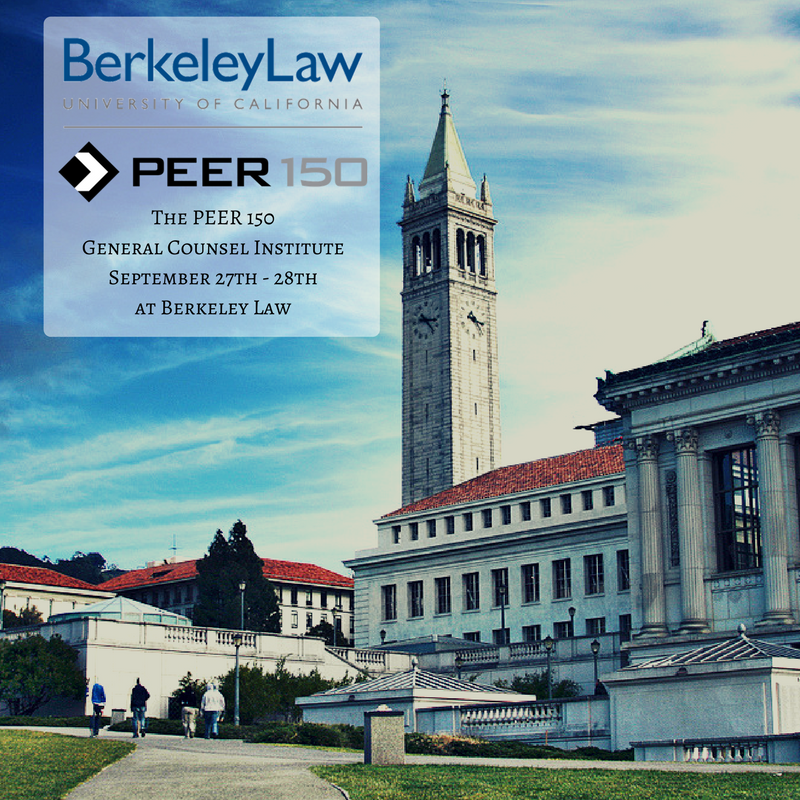 [/av_tab] [av_tab title='
Curriculum
' icon_select='no' icon='ue800′ font='entypo-fontello']
Thursday, September 27th
8:00 am

– Registration & Breakfast
8:45 am

– Welcome to the General Counsel Institute
9:00 am

– Transforming Your Legal Department for Speed and Growth


Transforming Legal for Speed and Growth: A General Counsel's View
Mark Chandler, Executive Vice President, Chief Legal Officer, Cisco
Whether you're a new GC in a legal department or simply looking to make positive changes in your department, the process of transformational change is never simple. This process is difficult yet needed for the modern GC. Its about not only embracing change but making it a requirement.
– The need for your legal team to be innovators and leaders in the business is essential
– The role of the legal department has changed dramatically because of the increased regulatory expectations in the US
– Fundamental shifts in the company's expectations
– Look at where your business is going, not where it is
– The Future: Legal services will be more and more automated – blockchain technology that will be revolutionary in its ability to create value

10:00 am

– Blockchain & Regulation

11:15 am

– General Counsel Leadership (Leading High Performing Teams with Emotional Intelligence)


General Counsel Leadership (Leading High Performing Teams with Emotional Intelligence)
Michelle Banks, Senior Advisor, BarkerGilmore
The role of a General Counsel involves more than simply acting as the lead lawyer for an organization. Leading a team of people, managing a budget, liaising between management and a board of directors, and playing a leadership role in a crisis are just a few of these other expectations. Successful general counsel are problem solvers with a team orientation. In this program segment on General Counsel Leadership, we will primarily focus on the non-cognitive side of being an effective general counsel, in other words the importance of soft skills. Soft skills, such as emotional intelligence with peers and the board, ability to inspire high performing teams, and political savvy internally and externally, are keys to unlocking success in this leadership role.

12:30 pm

– Lunch
1:30 pm

– Managing Unconscious Bias

2:45 pm

– Break
3:00 pm

– Speaker Presentation

4:30 pm

– Networking Reception at The Bancroft Hotel
Friday, September 28th
8:30 am

– Breakfast
8:45 am

– Mastering Leadership


Olga Mack, VP of Strategy, Quantstamp, Inc.
Mastering Leadership
"Mastering Leadership" is a session that will debunk your ideas of leadership. You may not feel like a "natural leader" or hold a traditional "leadership position." Or maybe you have a leadership title, but struggle to find your own leadership style. It's easy to think that "leadership" is a role, title, or personality trait. But it is a learned skill that anybody — including you — can learn. Through case studies, interactive assignments, and games, you'll learn the five principles that every lawyer must master to become a proficient leader.

9:45 am

– How to Knock on Government Doors and How to Respond to Government Knocking


How to Knock on Government Doors and How to Respond to Government Knocking
Irene Liu, Vice President and General Counsel, Checkr
The regulatory landscape is constantly changing and it is the job of the modern general counsel to navigate this landscape for your company. Yet, it is difficult to understand when and how to engage the government and how to respond to regulators when they call.
– Assess regulatory framework for your company and its products
– Develop proactive engagement strategies with regulators
– Handle inquiries from regulators and law enforcement authorities

10:45 am

– The Art of Negotiating and Executive Presence

12:00 pm

– Lunch
12:45 pm

– The Digital General Counsel


The Digital General Counsel
Reggie Davis, Chief Legal, Privacy and Compliance Officer, DocuSign
The digital age has brought the world unprecedented amounts of opportunity – opportunity for cleaner, faster, easier experiences with tangible business outcomes that speed progress and facilitate digital commerce. For the legal profession, in addition to improving the client experience and expediting turnaround times, a digital transformation is here.
– Digital Transformation and Lifecycle Management
– Systems of agreements and documentation preparation
– Artificial Intelligence and where it is taking the legal department

1:45 pm

– Sustainability Meets Compliance


Sustainability Meets Compliance
Amelia Miazad, Founding Director, Business in Society Institute | UC Berkeley School of Law
The evolution of corporate purpose from short-term profit maximization to long-term sustainability means that inside counsel must not only manage legal risk, but also navigate environmental, social, and governance issues that pose ethical and reputational risk. Berkeley Law's Business in Society Institute is conducting pioneering research and curriculum in this emerging area. This session will address how sustainability is impacting the role of inside counsel through case studies focused on:
– Corporate governance and sustainability, the distinct roles of management and the board
– Increased investor focus on environmental, social, and governance issues
– Sustainability reporting and disclosure
– The evolution of soft law and societal norms into hard law
– A growing expectation for companies to take stands on political issues

3:15 pm

– Break
3:30 pm

– General Counsel Presentation

4:45 pm

– Certificate Ceremony

[/av_tab] [av_tab title='
Instructors
' icon_select='no' icon='ue800′ font='entypo-fontello']












[/av_tab] [av_tab title='
Location
' icon_select='no' icon='ue800′ font='entypo-fontello']
Boalt Hall, Warren Room (#295)
225 Bancroft Way
Berkeley, CA
The Berkeley Center for Law and Business is Berkeley Law's hub for rigorous, relevant, and empirically based research, education, and programming on the interrelationships of the law, business, and the economy. Our areas of focus include venture capital and entrepreneurship, corporate social responsibility, capital markets, and mergers and acquisitions. Our executive education programs, which now include venture capital, blockchain, and finance academies, have honed the skills of practicing attorneys, executives, and investors from over 20 different countries.
Berkeley Law is the world's leading institution for the study of corporate law, finance, capital markets, and innovation. To achieve this objective Berkeley leverages its leading faculty in these areas as well as its unique geographical location with respect to Silicon Valley. In pursuit of these objectives Berkeley adheres to its social mission as the top public law school in the country.
[/av_tab] [av_tab title='
Tuition
' icon_select='no' icon='ue800′ font='entypo-fontello'] Our tuition structure encourages organizations to send multiple attendees.  We have found that the more attendees within an organization who hear new ideas, strategies and concepts taught at the Institute, the more likely they are implemented when executives return to the work environment.  This is a core principal of the GC Institute: practical ideas that can be implemented.
Standard Tuition Cost

1st Attendee

$4,000

2nd Attendee

$3,000

3rd Attendee

$2,000

4th Attendee

$1,000
[/av_tab] [/av_tab_container]