The PEER 150 Outside Counsel Workshop Presented by the General Counsel Institute
UC Berkeley School of Law
Saturday, September 29th, 2018
The PEER 150 Outside Counsel Workshop
This is a full day developmental program is designed for Legal Partners and Outside Counsel Executives, that are wanting to better their skills for effectively working with General Counsel Executives.
This program will give you the opportunity to learn from some of the brightest GCs in the industry on how outside counsel can better work with, retain and attract in-house clients.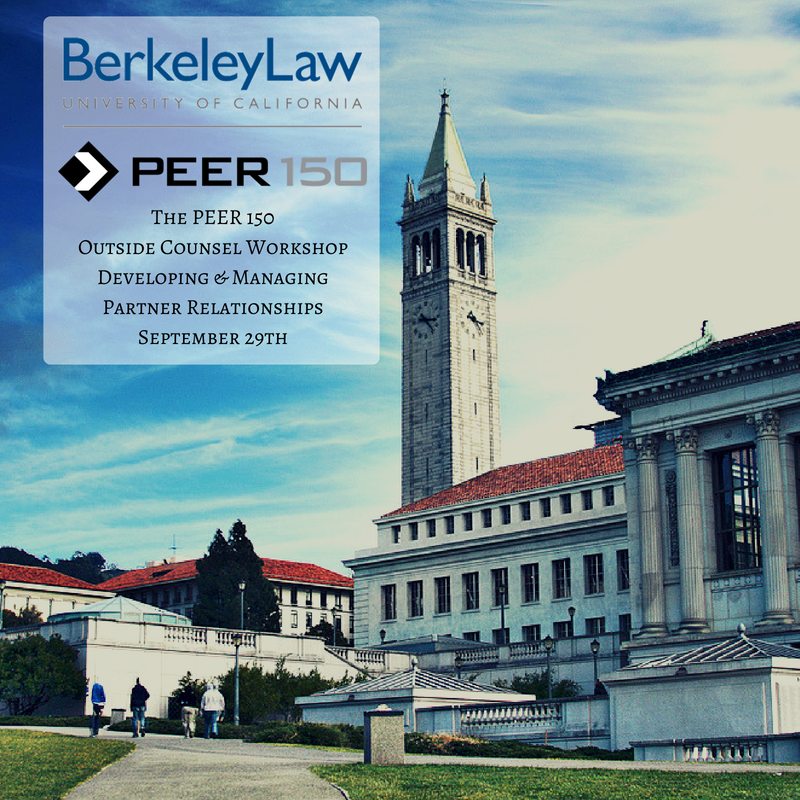 Saturday, September 29th
8:00 am

– Registration & Continental Breakfast
8:45 am

– Welcome to the Outside Counsel Workshop
9:00 am

– The Future of the Legal Practice – The View From Inside

10:00 am

–The GC Power Rankings – The Top (and Bottom) 5 Things GCs Like (and Dislike) about Outside Counsel

11:15 am

– Unlocking Effective Client Management

12:30 pm

– Lunch
1:30 pm

– Risk Tolerance – The Client Perspective

3:00 pm

– "Vendor management" From a General Counsel's Perspective

4:30 pm

– Networking Reception
Boalt Hall, Warren Room (#295)
225 Bancroft Way
Berkeley, CA
The Berkeley Center for Law and Business is Berkeley Law's hub for rigorous, relevant, and empirically based research, education, and programming on the interrelationships of the law, business, and the economy. Our areas of focus include venture capital and entrepreneurship, corporate social responsibility, capital markets, and mergers and acquisitions. Our executive education programs, which now include venture capital, blockchain, and finance academies, have honed the skills of practicing attorneys, executives, and investors from over 20 different countries.
Berkeley Law is the world's leading institution for the study of corporate law, finance, capital markets, and innovation. To achieve this objective Berkeley leverages its leading faculty in these areas as well as its unique geographical location with respect to Silicon Valley. In pursuit of these objectives Berkeley adheres to its social mission as the top public law school in the country.
Our tuition structure encourages organizations to send multiple attendees.  We have found that the more attendees within an organization that hear new ideas, strategies and concepts taught at the Outside Counsel Workshop, the more likely they are implemented when executives return to the work environment.  This is a core principal of the Outside Counsel Workshop, practical ideas that can be implemented.

Standard Tuition Cost

1st Attendee

$2,000

2nd Attendee

$1,500

3rd Attendee

$1,000

4th Attendee

$500